Pariah: Anton – Generated grass biomes [screenshots]
I still didn't find the time to write the whole progress report about Pariah, but I can say that in the evenings I've been practicing pixel art and during the daytime, I've been programming! Because Žiga was late with his art work, I've imported my own creations to the generator and it produced couple of cool looking grass biomes 😀
Huge story teaser
Vegetation is pink because of the Artimoon.
We've also had a poll about which style would the players prefer to see in the  released version of the game. Majority of people we asked… where n = 6, 4 said that they prefer the art style on the right (picture below).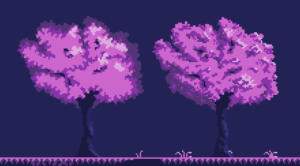 PS: I'm the author of the style of the "left" tree – which was used in the current biome generation and Žiga modified it to his style on the "right". I Will show the next screenshots with the modified style as soon as they are available 😀
Till then,  stay pixely and if you're interested in updates about our upcoming game Pariah, subscribe to our newsletter and check out our social media.
Cheers,
Filip
art
pariah
screenshots